Peace is Everybody's Business - Preface
I object to violence because when it appears to do good, the good is only temporary; the evil it does is permanent.
-John Lennon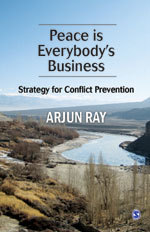 Whenever the subject of alienation comes up for discussion, it is common and fashionable to talk only of India's 140 million Muslims. The scale and intensity of alienation is far greater - Dalits, Schedule Castes, Schedule Tribes, other backward classes, those living below the poverty line and, not to forget, people living in one third of India's districts that are affected by insurgency in some form or the other. While it is not possible to put down an exact figure, on a conservative estimate, the alienated population in India would be a staggering 500 million. Alienated sections of society are like dry gun powder just waiting to explode. The nation ignores them at its peril.
This book is about conflict prevention, hope and peace for the oppressed and the alienated, and the effective use of soft power to win back estranged communities into the social and political mainstream. Past strategies in managing alienated societies have been derived from two extreme ideological positions. The first position is of the view that those who take up arms are enemies of the state and should be thrown into jails or destroyed. The second position is that of ultraliberals who believe that individual rights are more important than national security. This lot, usually denounced as the loon fringe, is meant to be ignored. This book suggests an alternative strategy on how to reconcile these two extreme positions.
What follows is not a lengthy treatise on Operation Sadbhavna, a successful sociopolitical strategy in conflict prevention in one of India's most sensitive and remote regions-Ladakh. Sadbhavna is the inspiration to find an explanation on why we succeeded, and then to extrapolate an overarching concept for preventing conflict, by de-alienating large sections of society who strongly feel that the state has been unfair to them.
As soon as I assumed the command of 14 Corps in northern Kashmir in June 2000, there was an urgency to set out the strategic vision and operational objectives for the field forces. The military vision had to take into account the aspirations and perceptions of the people of the region. Above all, we wished to win popular support in order to synergize military efforts to defend the borders against infiltration and prevent a repeat of Kargil, 1999.

Purchase Book